HANGING TYPE SHOT BLASTING MACHINE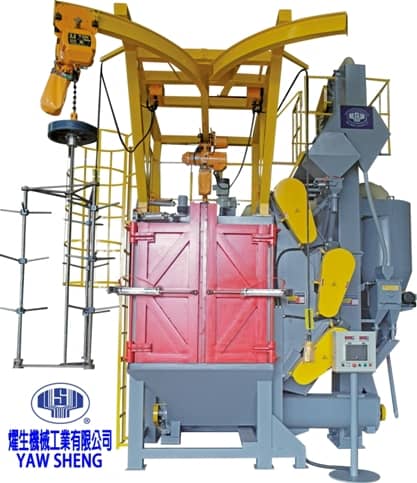 Product Description:
Yao Sheng Machinery Industrial Co. is committed to developing and manufacturing shot blasting machines. We have accumulated rich experience in the field over the four decades. This blasting machine equipped with rails, hangers and hooks, by special design-ensures an even shot blasting and satisfactory treatment in a shorter time. Widely applied in surface treatment in various industrial sectors includes casting, forging, die-casting parts, automobile parts and paint industry, etc.We set up a R&D division and provide more varieties and customized machines to various industrial sectors. Manufacturing of all products is conformed to ISO standard, and we hold quite a few patents for the machine. Our product is high-functioning. This machine features the mechanism of rotation and spinning, by the special design can greatly reduces blasting time and cost. For all materials that require surface treatment.